FILM FUN RAISER FEST for Nichts ist Erledigt
We are throwing a party:
FILM FUN RAISER FEST
they call it party, we call it unwaged work
23.05.15 – 20:30 Filme – ab 22:00 Party
in der Raumerweiterungshalle – Markgrafendamm 24c, 10245 Berlin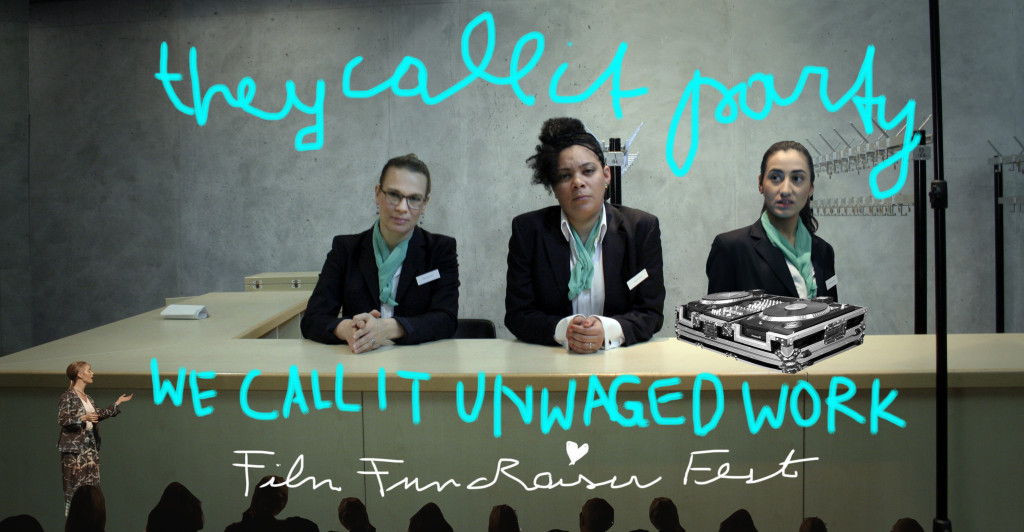 As you may or may not know, we, Systrar Productions, recently shot our new film "Nichts ist Erledigt". We have written, produced, directed, and shot the film together with an amazing crew and cast. Reason enough to celebrate a magical night full of films, live music, DJs, dance performances, fresh drinks, nice snacks and sleazy tombola prizes at the beautiful Raumerweiterungshalle!
"Nichts ist Erledigt" is a feminist essay fiction feature that asks how reproduction (in every sense) is possible in a neoliberal economy; what means labour, the "liberty of choosing", social freezing, state patriarchy and womanhood; how to create bonds and solidarity, and possibly strike against work and the nuclear family…
Short film program TBA! Including a first teaser of "Nichts ist Erledigt".
Performances:
Tümay Kılınçel
H/C/S/H
Indra Linderoth
live:
Dubais
6zm
DJs:
MC Xuparina
divaxs
Bianca Kruk
luiso
Hinna
The other reason to throw this party is that we need to raise money to finish "Nichts ist Erledigt", or to be precise: mostly to pay wages to those who will do the post production. To be able to do that, we ask you to participate in the libidinal relationship between capitalism, friendship and affective labor, to drink and dance for this film.
Entry by donation, if you can't pay, you can still party. Crowdfund my eggs äh ass!