Un Coup d'Oeil
director
editing
production
script
In a small town in Sweden, the close friends, Maryam and Frida, host the mysterious Monique, a couch surfer who has come stay for a night. Under the eyes of their visitor, instances of everyday life play out, and tension surrounding the ambiguity of their intimate friendship and their sexual encounters ensue. In the final act, in the wake of Monique's absence, Maryam and Frida try to continue with their routines while getting ready for a double date.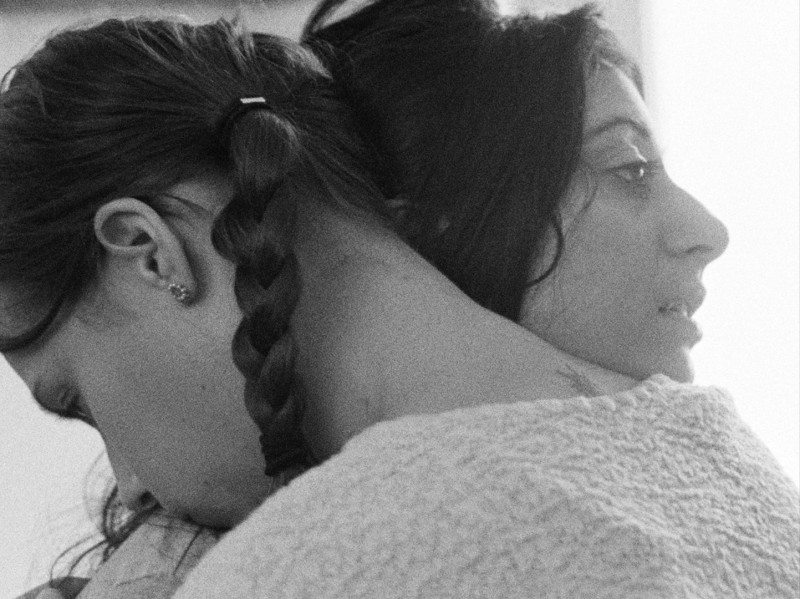 STATEMENT
Un Coup d'Oeil (Stroke of the Eye) is a new short film by Hanna Bergfors and Kornelia Kugler / Systrar Productions. With this film we intend to examine a female friendship and the function of a private and enclosed space as a safe space, a political space, a chat room, a public space. In Un Coup d'Oeil domestic camp-drama meets chamber-play: because every object and every gesture seem to have meaning, their normality crumbles.
We made this film together with a largerly female-identified crew and cast. Together with the director of photography Imogen Heath, we decided to shot the 'Un Coup d'Oeil' on B/W 16mm film-material. The free jazz music score was composed for the film by Manuela Schininá who recorded and arranged every single instrument.
CREW & CAST
CAST Sanni Cabral, Roxy Farhat, Hanna Bergfors, Alex Lindskog, Mikael Lindahl
WRITTEN, DIRECTED AND EDITED by Hanna Bergfors and Kornelia Kugler
DIRECTOR OF PHOTOGRAPHY Imogen Heath
CAMERA AND LIGHT ASSISTANT Zarah Zandieh
SOUND RECORDING Birte Gerstenkorn, Manuela Schininá, Nadja Krüger
COSTUME AND SET DESIGN Ebba Fransén Waldhör
DIRECTOR'S ASSISTANT Nadja Krüger
SET PHOTOGRAPHY Alexa Vachon
FILM MUSIC CONCEPT AND ARRANGEMENT Manuela Schininá
PERFORMED by Bastian Hagedorn / Drums, Johanna Olausson / Contrabass, Mitchelle Betancourt / Trombone
SOUND DESIGN Manuela Schininá
SOUND MIXING Jochen Jessuzek
GRADING Kornelia Kugler
CATERING Nai Fowler, Rüzgâr Bushky, Hinna Jafri
SCRIPT ADVISORS Amelia Bande, Roxy Farhat
PRODUCTION ASSISTANTS MALMÖ Aina Gagliardo, Roxy Farhat
PRODUCTION ASSISTANTS BERLIN Imogen Heath, Nadja Krüger
LOCATION BERLIN Liz Rosenfeld
PRODUCTION Kornelia Kugler and Hanna Bergfors / Systrar Productions
Produced at the Institute for Timebased Media, University of the Arts Berlin
17', 16mm transferred to HD, 4:3, B/W, Germany/Sweden
Swedish/English/French with eng. subtitles.